Westchester Needs Bus Detour Notices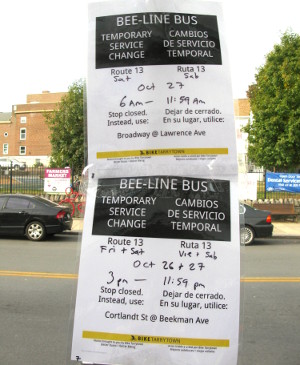 Below is an email we wrote to Westchester County Executive George Latimer.
29 Oct 2018
Dear George:
Your help is needed to end a harm the County does to residents, employees and businesses who depend on Bee-Line buses. Please consider the following during the current budget discussions.
When municipalities hold fairs and parades on streets that carry bus routes, the County's Transportation Department doesn't have the budget/staffing to post notices at bus stops or on the County's website. So riders are abandoned, with no idea why or what to do about it.
These folks, already in precarious economic situations, miss work. Empty shifts also hurt their employers. The result is people feeling compelled to get a car. But that creates a $10,000 per year hole in a household's budget, then goes on to burden public's health, safety, budgets, economy and climate.
For those same reasons, we need to improve transit so people who do have options choose to take it.
Thus, my organization took the time to plan, create, post and remove 20 service change notices for the Sleepy Hollow / Tarrytown Halloween festivities: https://twitter.com/BikeTarrytown/status/1055947409375850497
Moving forward, keep in mind that most events, thus the temporary reroutes, are the same each year. So setting up the process will be a lift the first time around. Then following years will just involve implementing the pre-existing game plan.
The simplest step is getting these changes posted to the Bee-Line Service Alerts section of the County's website.
For bus stop pole notices, perhaps a collaborative approach can be taken. County transportation staff can compose PDFs of the appropriate signs, then send them to municipal administrators to print and post.
In some instances, an alternate official stop is quite far away, but the buses are passing nearby on another street. In these instances, temporary bus stops are worth implementing.
We appreciate your attention to this matter.
Sincerely,
--Dan
---
More information on our Better Buses campaign