Broadway for Everybody
Broadway in Tarrytown and Sleepy Hollow is set up for one thing: cars. Now's the time to change it. We need a Broadway everybody can use.
Residents Want It
Bike Tarrytown was founded because we kept meeting people who said they want to ride bikes for local errands, but are too scared. So in three months we photographed 100 people seeking safe streets.
The lack of safe bike infrastructure forces them to drive places -- using parking spaces when they get there, while creating congestion, pollution and crashes along the way.
Guess what were the #2 and #4 things people most requested during Tarrytown's Comprehensive Plan outreach process? "Deploy Complete Streets... starting with Routes 9 & 119" and "Bike Infrastructure."
Sleepy Hollow's Comprehensive Plan received similar public input. Improving biking and walking infrastructure was the most frequent desire at the first workshop and 30 people came to a Trustee meeting in support safer streets, plus 50 emails and 10 postcards were written.
Bikes Mean Business
We're talking with store owners about how Bikes Mean Business.
Our villages have 20,000 people living within 2 miles of downtown. Providing real transportation choices means most residents can bike to shops quicker than they can drive and park.
People cycling spend more money locally than drivers.
And safe places to ride will invite recreational riders into our broad array of restaurants, coffee shops and bars.
The result is the Broadway bike lane will be a boon for our businesses.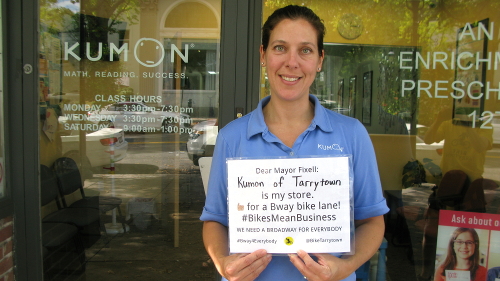 Merchants Want a Broadway for Everybody
The merchants we've spoken with are nearly all in favor of a protected bike lane being built on Broadway. There's wide spread agreement that tackling the parking issue is key to making the bike lane a reality.
Our Twitter feed includes shout outs to stores supporting the project.
Inspiration
The Route 9 Study
To this end, we are organizing public support for the "Route 9 Active Transportation Conceptual Design Plan."
Here's our two page primer on the topic (PDF):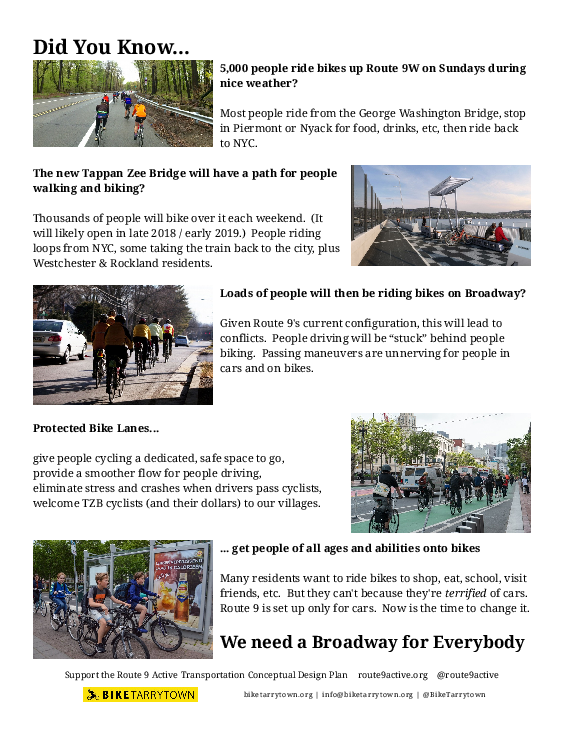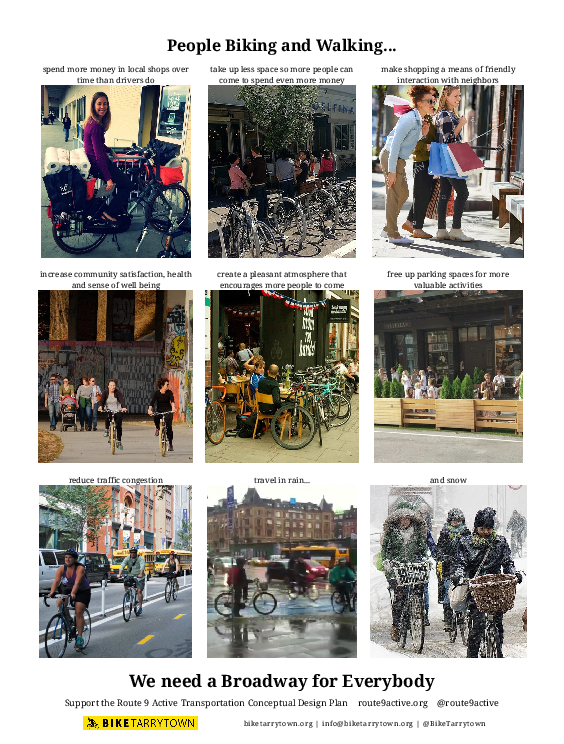 The Journal News created a nice article and video about the campaign.
The River Journal's new owner asked us to write an op-ed, so we did. Mayor's Wray and Fixell were given a platform as well. Here's our take on that.
Our op-ed in the Hudson Independent, paired with the Chamber of Commerce's positive take on the matter: web, PDF.
Here's how the Hudson Independent covered the study's Final Report. We wrote a Letter to the Editor to clarify that "we continually meet people tired of being forced to drive" due to our infrastructure not welcoming walking, cycling and transit.
Our Director wrote the report of Sleepy Hollow's recommendations to the Route 9 study. He gave a presentation about it to the Board of Trustees (video, slides), joined by 10 residents in the audience -- a record for a Work Session? :). Here are responses to the various concerns Mayor Wray and the Trustees raised.
In reality, Sleepy Hollow practically has a bike lane on Broadway by the High School already. The parking spaces on the east side of the street are so lightly used, it's a safe place for people to ride. See the video (right / above) for what we're talking about.
Share Your Aspirations
Village officials are wary of change. Help them along by expressing how you feel.
We're working tirelessly to ensure Broadway is safe for accessing the Tappan Zee Bridge's biking/walking path (opening ~mid-2019). Our two most recent letters on the topic are about getting a crosswalk where the TZB path reaches Broadway and a properly wide, safe connection to the OCA at Lyndhurst. Further efforts are linked to from those pages.
Other Matters
Our letter requesting NYS DOT implement snow removal policies for protected bike lanes.