Demand 24/7 Bike Access to the Tappan Zee / Cuomo Bridge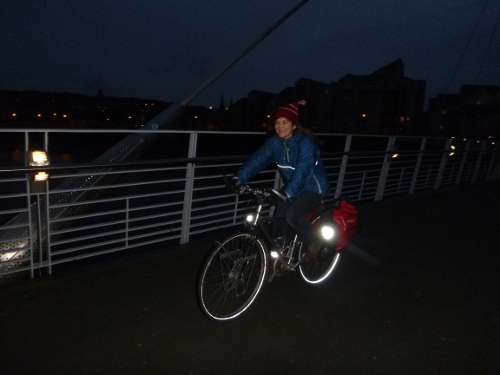 Photo courtesy of Dave Horton
The new Tappan Zee Bridge (officially the Governor Mario M. Cuomo Bridge) will have a fantastic "Shared Use Path" for people walking, biking, etc. Unfortunately, the State is contemplating closing the path overnight.
Many jobs in the region have odd hours, so are only available to people that have unrestricted access to reliable transportation. The bridge path is a transportation resource that opens up economic opportunities for families who can't afford the $10,000 per year it takes to own a (second) car.
Our government's job is promoting liberty, not dictating how and when people can travel.
The hang up is some people in South Nyack are concerned about noise and crime. In reality, bike commuting is a silent activity, people peacfully passing by on their way to and from work. The Shared Use Path, like every other path in the world, will be a boon to the community and boost property values.
People living around Nyack will be the biggest beneficiaries. They'll be able to bike over the beautiful Hudson River, getting excercise and fresh air while commuting to the Metro North train station in Tarrytown, for free! (To be honest, we're jealous!)
If this is banned...
...more people will be doing this
Take Action
Our friends in Rockland created a petition calling for 24/7 access. Fill it out now!
Then take it to the next level by contacting your elected officials. Politely explain and how the path will benefit you and the community.