Let's Construct a Safe Aqueduct
We Want Our Park Back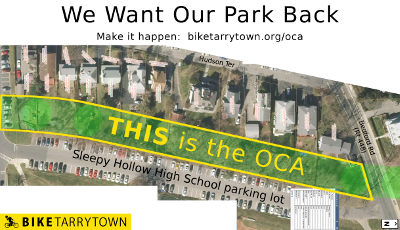 (Click thumbnail to get full sized picture)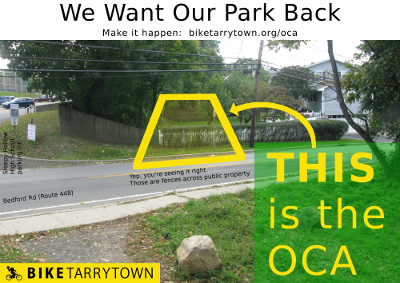 (Click thumbnail to get full sized picture)
In Sleepy Hollow, the Old Croton Aqueduct has been taken over by home owners on Hudson Terrace. None have permission from the State to do so. This forces people to walk and bike through the High School parking lot. Parking lots are dangerous places.
New York's Department of Parks is interested in reclaiming and reopening this safe right of way. State Parks will do the heavy lifting, but they need to know there's local public support and political will.
Sign the petition to say "We Want Our Park Back!"
Route 448 Crosswalk
At the north end of this stretch, we need to create a safe crosswalk for Bedford Rd (Route 448).
Doing this right is totally doable, though involves a lot of details because of the street's curves and hills. Building a raised crosswalk, installing signs, and reactivating the flashing lights in a way that they get activated when people approach the crosswalk is not rocket science.
This street is controlled by the State Department of Transportation. While the DOT is bureaucratic, we can line up the plan, funding and will to get this done.
Sidewalks for Briggsville
Walking in Sleepy Hollow's Briggsville neighborhood is dangerous. In fact, a person driving killed a person walking on Webber Ave in 2003.
A sidewalk loop needs to be constructed that runs up the north side of Bedford Rd to Sleepy Hollow Rd, then along Sleepy Hollow Rd to Webber Ave, and back along Webber Ave to Bedford Rd.
Implementing all of the proposals above will mean kids in Briggsville can safely walk to the Middle School and High School.
Pine Close - OCA Connection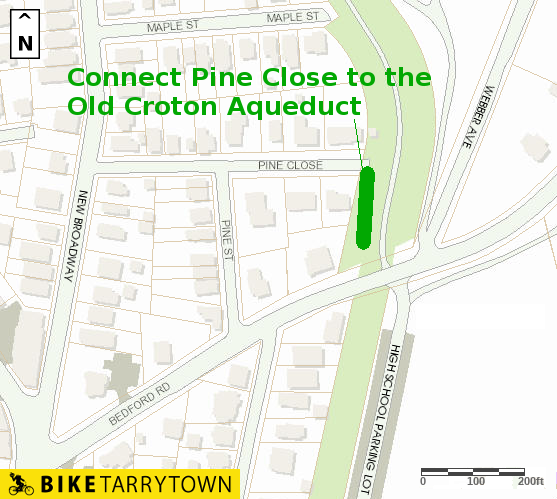 (Click thumbnail to get full sized picture)
Connection between the Old Croton Aqueduct and Pine Close so southern Webber Park residents can access it without going on Bedford Rd. (map on right) Avoiding Bedford Rd is good due to poor sight lines, narrow lanes, speeds, steepness of the hill and distance.
Adding a contraflow bike lane on Pine St would create a safer, legal way for residents to access their homes on this one way street and the Aqueduct.
High School's Hallway
The OCA is severed by one of Sleepy Hollow High School's corridors. Reconnecting this should be on on our long term wish list. Some possible solutions are:
Gorey Brook Rd
The Village and State need to rework the OCA / Gorey Brook Rd crossing. Cars park all over the right of way. A dedicated, safe space for walking and cycling is needed so people of all ages and abilities can use the Aqueduct.
Route 117 Connections
(Click thumbnail to get full sized picture)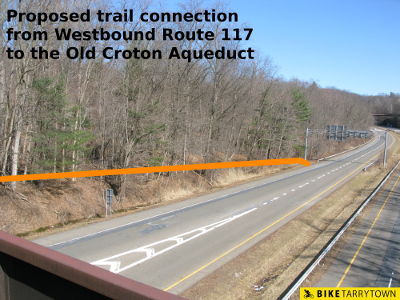 (Click thumbnail to get full sized picture)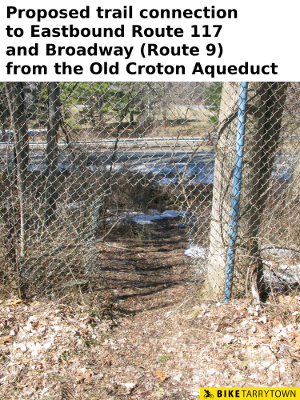 (Click thumbnail to get full sized picture)
Route 117 is the only east - west corridor for several miles. It has wide shoulders, excellent for people confident cycling. It connects to the North County Trailway, Pace University and Pleasantville. While the OCA passes over Route 117, there are no official connections between the two.
Creating access points between the Aqueduct and Route 117 is relatively simple, taking advantage of existing geographic contours. See the maps, diagrams and photos here.
Rockwood Hall Connection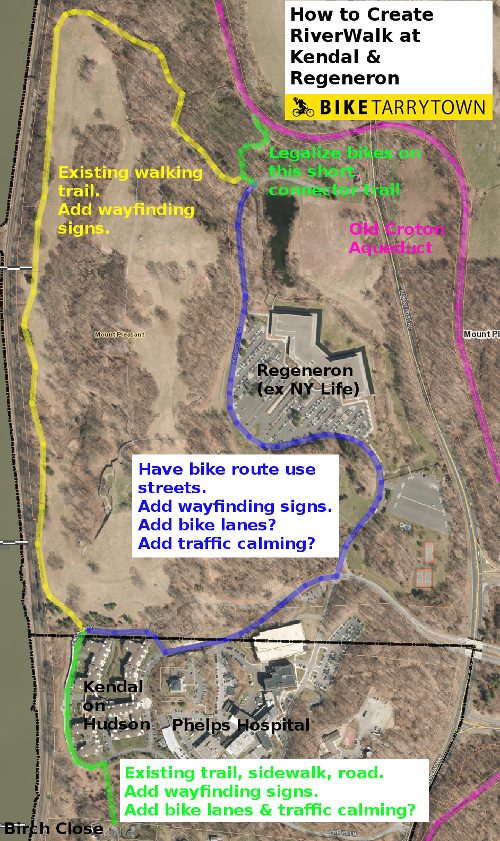 People biking aren't allowed to ride the short trail that connects the OCA to the Regeneron (ex NY Life) campus. Adjusting the status of htis link (see green line near top of the diagram at left) opens up recreational opportunities by completing RiverWalk as well as commuting options to Regeneron, Kendal-on-Hudson and Phelps Hospital.
Making All This Happen
Making all this happen starts with getting these ideas into Sleepy Hollow's Comprehensive Plan.
Send an email:

  Ken Wray <kwray@sleepyhollowny.org>,
  Denise Scaglione <dscaglione@sleepyhollowny.org>,
  Glenn Rosenbloom <grosenbloom@sleepyhollowny.org>,
  John Leavy <jleavy@sleepyhollowny.org>,
  Rachelle Gebler <rgebler@sleepyhollowny.org>,
  Sam Gonzalez <sgonzalez@sleepyhollowny.org>,
  Sandra Spiro <sspiro@sleepyhollowny.org>,
  Anthony Giaccio <agiaccio@sleepyhollowny.org>,
  Comprehensive Plan Team <contact@sleepyhollowconnected.com>,
  Bike Tarrytown <info@biketarrytown.org>

Show up:
Public Hearings @ Board of Trustee Meetings
Tuesday, May 28, 2019, 7:00 pm
Village Hall, 28 Beekman Ave, Sleepy Hollow
---
Tarrytown Grant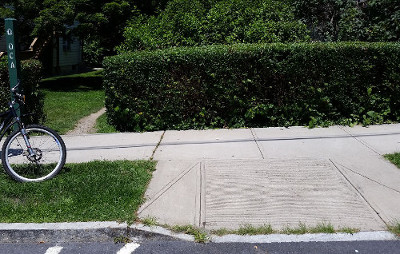 Before: Shrubs blocking the curb ramp at Neperan Rd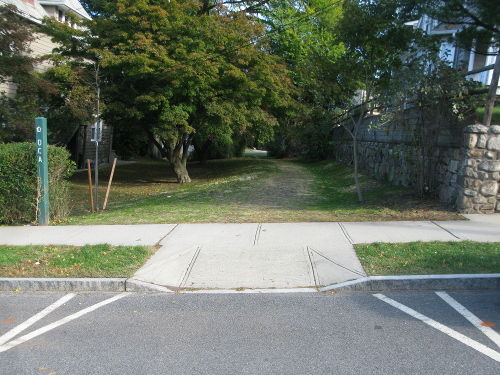 After: Clear access from the curb ramp to the trail at Neperan Rd
We helped Tarrytown get a $300,000 grant to make the OCA nicer and safer. In the spring of 2019, the Village used it to for new crosswalks, curb ramps, signs, surface smoothing and shrub clearing. This thread shows all the details.