February 3, 2019 Update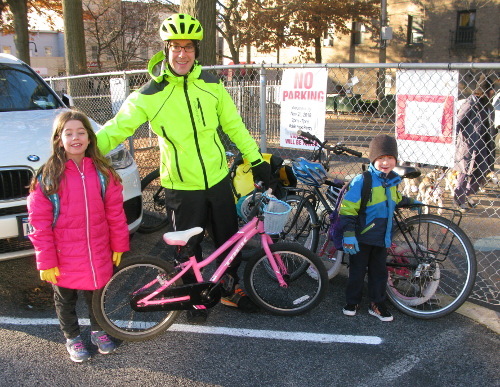 March 12 = Sleepy Hollow Hearing
It's a public hearing about the Comprehensive Plan. The draft has lousy language about safe cycling on Broadway. (We'll send more details before then.)
You need speak up, Sleepy Hollow residents. And so do your kids. Clear your calendar and bring the family.
Tuesday, March 12
7:00 pm
28 Beekman Ave
Sleepy Hollow Village Hall
This Friday is Winter Bike to Work Day
Since kids consider school to be work, we'll organize rides to there.
Bike to WI & Morse on February 8. Free donuts & hot chocolate!
Crest:
Meet at 6:50, Union Ave & Kerwin Pl.
Ride down the hill to WI, then over to Morse.
Getting home to the Crest is up (no pun intended) to you.
Webber Park:
Meet on the corner of New Broadway and Maple St.
To WI: gather 6:50
To Morse: gather 7:45
The Webber Park crews will also ride home together.
If you're coming, reply to this email so we can get proper quantities of refreshments.
Going to ride from another neighborhood or to another school? Let us know.
Inspirational Video
Speaking of biking between WI & Morse...
Fair Haven, NJ makes a local street car-free during arrival/dismissal. It links their PreK - 3 Grade school with their 4 - 8 Grade school. (Like how Washington St links Morse & WI here.)
In the spring, the kids rising to the upper school get picked up by the older students, then they all bike in celebration along this car-free street to the new school.
See it in action: https://www.youtube.com/watch?v=kfm0c96NXVE
School Presentations
And speaking of school... We just held a great* presentation, plus Q&A, with a social studies class in Scarsdale High School. It was about the importance of transportation and the Route 9 Active Transportation study.
https://biketarrytown.org/presentations/2019-01-30-scarsdale-hs.pdf
If you'd like this for your (kid's) class, please reach out to us.
* At least that's what the teacher said to us. :)
February 24 = Next Meeting
We'll watch a quick video and then discuss how to make stuff happen. Refreshments will be served. A baby sitter will hang with our kids in the Children's Room.
Sunday, February 24
(and Sunday, March 31)
1:30 - 3:30 pm
Warner Library, Room B (upstairs)
121 N Broadway, Tarrytown
In the event of inclement weather, check the Library's website: https://www.warnerlibrary.org/
Buses Getting Bike Racks
All of Westchester County's Bee-Line buses will have bike racks on them by the end of this summer!
https://twitter.com/BikeTarrytown/status/1090693662701469698
Snow Removal
An increasing number of cities are showing they care about public safety* by handling sidewalk snow removal.
It doesn't cost a lot of money, either. In (very snowy) Rochester, it costs each homestead an average of $35. (That's what'd cost you to hire someone to shovel just a couple snowfalls!) We can fund it via a small separate fee on our Village water bills (which is how Sleepy Hollow charges for garbage collection), so it's outside the Property Tax Cap.
Leaving shoveling up to property owners results in dangerous, sometimes impassable conditions. Imagine if we required home owners to shovel the streets!
Sidewalks are public property.** We need to make walking a public priority.
Further reading: https://www.citylab.com/perspective/2019/01/snow-removal-laws-shoveling-city-sidewalks-rules-syracuse/579886/
* Just one of the stories of someone injured on an icy sidewalk: https://twitter.com/RobinMazumder/status/1088536882336747521
** Property lines generally end before the sidewalk. Don't believe us? Look at the survey you got when you purchased your home.