Remembrance for 10th Anniversary of Merrill Cassell's Death: November 9, 2019
Remembrance ceremony and ghost bike memorial rededication honoring the tenth anniversary of the death of Merrill Cassell.
Please join Maximilla & Tania Cassell, State Assembly Members Thomas Abinanti & David Buchwald, County Legislator Alfreda Williams, Town Supervisor Paul Feiner and Bike Tarrytown
Noon, Saturday, November 9, 2019
Southwest corner of Tarrytown Rd and Aqueduct Rd, Greenburgh, NY
Background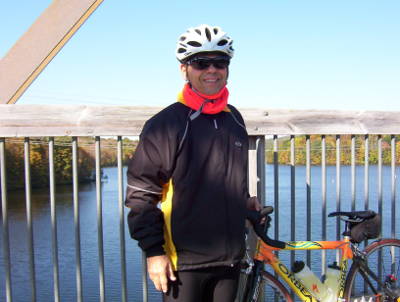 Merrill Cassell on the North County Trailway bridge over the Croton Reservoir, October 15, 2006. (Click photo for higher resolution.)
Ghost bike memorial for Merrill Cassell. Dedicated December 5, 2009. Photographed July 21, 2019.
On November 6, 2009, Merrill Cassell killed while cycling on Route 119 in Greenburgh. He was hit by a bus near the intersection of Aqueduct Rd because the driver passed too closely.
A ghost bike memorial was erected at the location on his birthday, a month after the crash. During the ceremony, State Senator Andrea-Stewart Cousins promised to introduce "safe passing" legislation.
"Merril's Law" was signed by the Governor in the summer of 2010. It requires people driving to provide "a safe distance" when passing people cycling.
Going Forward
Strengthening the Safe Passing Law
Subsequently, safety advocates around New York State have called for clear, measurable standards for safe passing distances. This change is necessary because most people driving have little experience cycling in traffic, so are unable to understand what is a safe distance.
The best language for a new bill needs to be worked out. No state law in the USA has the right mix of safety and clarity. The two closest are Delaware and South Dakota.
South Dakota

South Dakota's law is simple. If the road's speed limit is 35 MPH or less, people driving must give people cycling 3' when passing. On roads with speed limits above 35 MPH, the passing distance is 6'.

But this ignores the fact that posted speed limits are widely ignored in the United States. Let alone, 35 MPH is a deadly speed. 3 feet is only sufficient space for speeds below 20 MPH.

Statute: Chapter 32-26, Section 26.1

Delaware

Delaware's law is safe for the most part, but is a lot to remember.

2 lanes in travel direction:

"move completely into the lane to the left before passing"

1 narrow lane in travel direction:

"move completely into the lane to the left before passing"

1 wide lane in travel direction:

Slow down "to lessen the speed differential" (that part is vague) then pass "at a reasonable and prudent distance, which shall in any case never be less than 3 feet"

Statute: Title 21, Chapter 41, Section 4116
Making Route 119 Safe
Route 119 is a dangerous road for everyone, causing 90 injuries per year. 25% of those crashes happened in the area where Merrill was killed -- the short stretch between the I-287 ramps and the Metro North tracks. And another 40% of crashes happen in Downtown White Plains. (Route 119 crash stat summary.)
It's so bad, few people willingly walk or bike along or across it. To fix conditions, we started the Route 119 Complete Street Design Plan to help figure out how to improve conditions for people walking, cycling and riding transit. And it's why we're advocating for the Route 119 Plan to be better.