100C / 9A Bridge: Improving an Important Link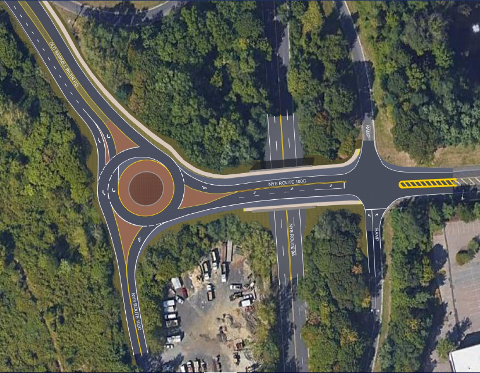 NYS DOT's initial proposal
The State Department of Transportation is replacing Route 100C's bridge over Route 9A (between Regeneron and the Medical Center) and adding a roundabout. Initial designs lacked full accommodations for people walking and biking. Below is a summary of our communications with DOT staff.
Why This Project Matters
At first glance, this is an isolated project in a spot with poor access for people walking and cycling. But looking at the bigger, long term context, this is an important element of a broader active transportation network.
Project Links Solid O&D Pairs
To the west are Tarrytown and Sleepy Hollow. To the east are the hospital, medical college, County facilities, Home Depot, the Cross Westchester office/industrial/service complex and the Community College. Abutting the project is the Landmark office complex, with thousands of existing and future jobs. The key tenant is Regeneron, which has employee wellness and sustainability commitments, a bicycle commuter club and a large workforce living within easy cycling distance.
Area Has Good Trail Network
The Old Croton Aqueduct, the North and South County Trailways and the South County trail spur to Tarrytown provide convenient bicycle access for hundreds of thousands of people. And the Network is Growing:
Regenron's expansion plans include paths
Greenburgh is getting sidewalks/paths along 9A to the west and south
County's Tarrytown - Kensico Trailway on the north edge of the project
Tarrytown and State Parks plans to improve the OCA
Tarrytown looking at bike lanes from South County spur to downtown
South County Trailway's missing link at Route 119 opening this fall
The North / South County Trailways will be part of the Empire State Trail
Route 9 and Route 119 studies for protected bicycle lanes
New NY Bridge will have a Shared Use Path
Systematic Safety
Traffic engineering results in motor vehicles being the #1 cause of injury death for kids, and #2 for adults. (Drug overdoses are now #1.) Moving forward, all road projects must solve this problem by simplifying interaction points and controlling speeds at them. This short video explains it well: https://youtu.be/5aNtsWvNYKE
Key Recommendations
The sidewalk on the north side of the project should be a 10' shared use path (12' wide near the hill) and connect with the existing path on the north side of Old Saw Mill River Rd in the Regeneron campus. This will link your project into the County's planned Tarrytown - Kensico Trailway and thus into the South & North County Trailways / Empire State Trail.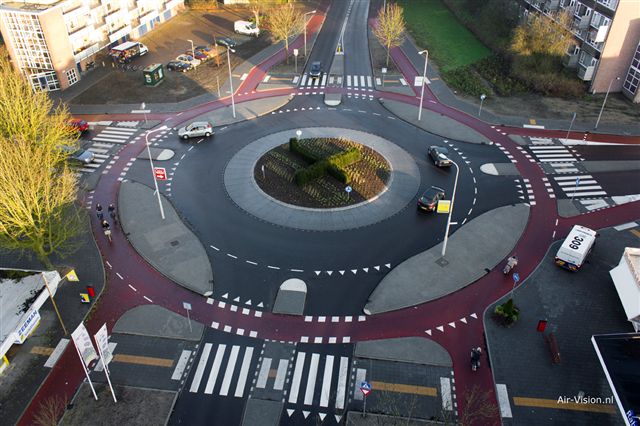 Roundabout with fully separated facilities
The roundabout must have crosswalks for all entrance/exit lanes. People walk here now. And more will walk here once Regeneron adds sidewalks.
Multi-lane crosswalks are dangerous because some drivers pull around drivers who stop for people crossing. Where this roundabout has multi-lane entrances or exits, it's necessary to have refuge islands between each of the lanes.
For examples of safe roundabouts, see photo (right) and https://twitter.com/rep_of_design/status/901913238723584000
The design speed of the roundabout should be at or below 20 MPH, speeds at which crashes are unlikely to result in severe injuries or death to people walking or cycling.
The planned detours really don't work for people walking and biking. While few people do so here, people do. If reasonable accommodations aren't provided, people will take matters into their own hands, find the shortest route and cross 9A under very unsafe conditions. A temporary bridge is the best solution. Another option is a temporary HAWK controlled crosswalk across 9A, maybe by the northern on and off ramps.