June 20, 2020 Update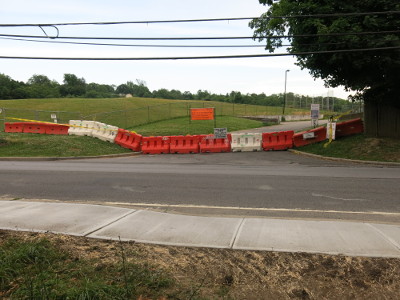 Plastic consruction barriers placed across Sleepy Hollow High School's parking lot entrance by Bedford Rd.
OCA is Blocked at the High School
The Old Croton Aqueduct Trail is completely closed by construction at Sleepy Hollow High School. Access to the Andre Brook Trail is also blocked.
Action Alert: write the School District using the link on this web page: https://biketarrytown.org/old-croton-aqueduct/
That page includes a map of the detour.
Tappan Zee Bridge Map
Want to use the Tappan Zee Bridge's new cycling / walking path, but have no idea how to get on it? Here's the map! We added all the connection details to OpenStreetMap: https://www.openstreetmap.org/relation/11215605
Shirts
C'mon, you know our shirts are awesome. Order yours now. We're close to reaching the minimum. After this, it'll be a while before we order more.
* Mens style T-shirt: Gildan Ultra Cotton (youth avail.) ($20)
* Womens style T-shirt: American Apparel Ladies Fine Jersey ($20)
* Sweatshirt: Gildan Heavy Blend (youth avail.) ($40)
https://twitter.com/BikeTarrytown/status/1274012140014362625