February 16, 2023 Update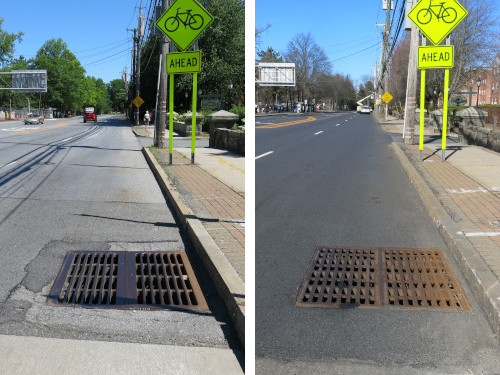 Please Contribute Today
We are cranking on lobbying materials and strategy to make sure the State DOT makes GREAT plans for Route 9. But tight finances could pull our Director off task. Please contribute today.
https://biketarrytown.org/donate.php
Safety Victory
Ten dangerous storm drain grates are gone from Broadway by the Tappan Zee Bridge. In response to our lobbying (for three years!), the State DOT replaced the grates while resurfacing Route 9.
While that happened over the summer, we finally had a moment to take the pictures, above.
Influencing Coverage
News 12 used our input regarding the "3 foot passing" legislation that's been reintroduced in the State Senate. Three feet is not enough. NY should require people driving change lanes when passing people cycling. Just like the laws in Delaware, Kentucky and Nevada.
https://westchester.news12.com/sen-harckham-reintroduces-bill-to-make-roads-safer-for-cyclists
So Fun
Thank you to everyone who helped organize and ride our first ever Holiday Lights Ride. We had 38 people on 28 cycles come together for the festivities. Here's a short video of it:
https://twitter.com/BikeTarrytown/status/1609724796014673920
Church St Bridge Fixed
Many thanks to the Village of Tarrytown for getting this helpful walking/cycling link fixed quickly.
Safer Speed Limit in Tarrytown
We are happy to report that Tarrytown lowered their village wide speed limit to 25 mph. Slower is safer for everybody, particularly people outside of cars.
Money for RiverWalk, Ossining Road Diet
Senator Schumer and (now former) Congressmember Jones secured $2.8m for to advance building RiverWalk under the Tappan Zee Bridge in Tarrytown.
They also brought home $4m to make Route 9 safer in Ossining.
https://thehudsonindependent.com/schumer-secures-2-8-million-for-riverwalk-connection-to-the-bridge-and-route-9/
Hudson River Bridge Updates
GWB
The George Washington Bridge's cycling / walking path is now on the north side of the bridge. The Port Authority reconstructed the approaches so it has wide ramps. The new Manhattan entrance is on Cabrini Blvd at West 180th St.
https://twitter.com/bikenewyork/status/1625521424768155649
Newburgh-Beacon Bridge
The path on the Newburgh-Beacon Bridge is now open 24/7. Let's leverage that momentum to get 24/7 access to all of the Hudson River bridges.
https://hudsonvalleypress.com/2022/11/30/hours-expanded-for-newburgh-beacon-walkway/
Dunn Memorial Bridge
The path is closed on this crucial active transportation link between Rensselaer (where the Amtrak station is) and Albany.
https://www.dot.ny.gov/news/traveler-advisories/2023/2023-01-26
More Info on Rivertown Bike Share
We've mentioned the Project MOVER project before. Here's an article that digs in on the topic. Aside from saying Ossining is "upstate," it's quite good.
https://www.peopleforbikes.org/news/e-bikes-meet-equity-in-upstate-new-york
Let Tony be a Legacy
Our colleagues at Livable Tarrytowns wrote a poignent piece about Tony Napoli and how Villages should move foward on safety.
https://livabletarrytowns.org/2023/02/11/looking-ahead-to-the-rest-of-2023-by-remembering-mr-anthony-napoli/
Parking Mandates Harm Communities
This fantastic new video uses Fayetteville, AR as the example of how "this business would not exist if [there were] parking minimums," and goes in to other problems with these costly laws.
https://www.youtube.com/watch?v=vUhOFUQDLQk
Simple Details for Building Safe Roads
This 7 minute video shows how Route 9 can be made safe and easy to use.
https://www.youtube.com/watch?v=hB6-U3NUYt4
The History (and Future?) of Public Input
With the Route 9 Active Transportation Project moving forward and Tarrytown considering accessory dwelling units, now is a good time to understand the public participation process.
"[At public hearings]... I don't hear reasonable people disagreeing about the best way to meet a common goal. I hear people who are misinformed, prideful... engaging in angry, bullying tactics to convince politicians that, because they are angry & loud, they must be right."
"Children [are] often more insightful than adults. Kids are less about what they listen to with politics and identity and stuff. They're more, like, 'My dad and I do this on the weekends, or I wish we could do that, but I don't feel safe doing it.'"
https://www.vice.com/en/article/n7z5jm/thank-you-for-your-feedback