October 6, 2019
Broadway in the Comprehensive Plan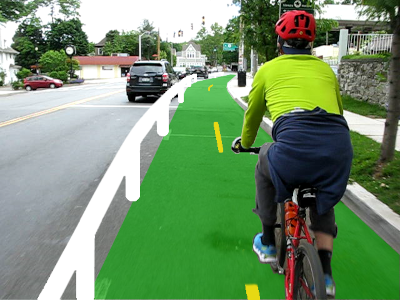 Our Take
Drafts of the Comprehensive Plan misunderstand the Route 9 Active Transportation Plan.
It starts out saying the Route 9 recommendations should be implemented "as appropriate." Then it leads into fear, uncertainty and doubt about safety, congestion, parking and cost. All of these issues are addressed by the Route 9 Plan.
Here's why implementating the whole Route 9 Plan is the right approach:
Is a balanced approach, improving access and safety for everyone
Adds continuous sidewalks, ADA curb ramps, safer crosswalks, dedicated turn lanes, protected bike lanes, bus stop shelters & benches
Reduces congestion by adding turn lanes and getting people out of cars
Frees up car parking downtown by getting people to walk, bike and bus there
Connects neighborhoods to major destinations. Dropping parts undermines utilization.
Produces huge return on investment (property values, downtown shopping, health, public safety, social, environment, climate)
Cuts car crashes on Broadway (130 injuries and 1 fatality in 10 years, wasting over $3 million)
Leaves plenty of parking available for merchants and residents
Helps several of the Comprehensive Plan's Action Areas
Another section of the Comp Plan covers the "redesign key intersections." The drawings relating to Broadway should be removed from the Comprehensive Plan because these:
intersections, and more, are addressed by the Route 9 Plan
designs are based on the Route 9 Plan
enhancements can be incorporated into the next phase of the Route 9 Plan
drawings lack facilities for residents who are too scared to bike
don't make things safer for people already cycling on Broadway
interfere with implementing the Route 9 Plan
Equity
Safe streets mean mobility for all. 25% of households in Sleepy Hollow don't have a car, while another 40% have only one. Over 20% of Village residents are too young to drive. A chunk of folks are too infirm to drive.
Making Broadway work for everybody means each community member can access jobs, food, school and friends. It boosts property values as well. The return on investment is tremendous.
Deletes reference to the Route 9 Active Transportation plan.
C-1b: As appropriate, implement recommendations of the Route 9 Active Transportation Conceptual Design Plan.

In November 2018, the Route 9 Active Transportation Conceptual Design Plan was released to recommend strategies to promote bicycle-friendly improvements to Route 9 improve Route 9 for all users.

The Village of Sleepy Hollow is supportive of the principles of improving bicycle safety in the area and some of the report's recommendations are consistent with Village priorities as expressed in this Comprehensive Plan.

The Village must also be strategic in advocating for changes to Route 9 to ensure that the corridor preserves pedestrian safety, continues to mitigate traffic congestion, and provides adequate parking to support local businesses; and the proposed interventions are fiscally prudent. Recommendations in the report should be implemented in a balanced way that support the safety of all road users.
C-1a: Redesign key intersections to improve pedestrian and bicyclist safety.

Intersections that could be improved include: Route 9 and Pocantico Street, Route 9 and Pierson Avenue, Broadway and Bedford Road, Broadway and Pocantico Street, Route 9 at the high school, and other Inner Village intersections (Figure 20).

Include recommendations of the Environmental Advisory Committee Walkability Workshop Report.
More Information
Dispelling the Mayor's Misinformation.
30 people came to a Trustee meeting in support safer streets, plus 40 emails and 10 postcards were written.
Our Broadway for Everbody page has complete details of how and why we need to fix Route 9.
Read everything we've got on the Comprehensive Plan.