October 6, 2019
Old Croton Aqueduct in the Comprehensive Plan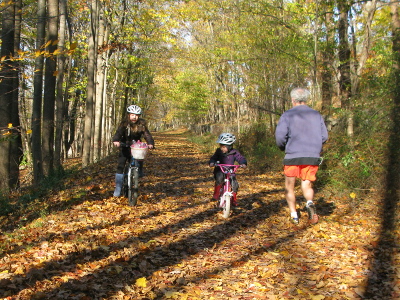 Our Take
The Waterfront Plan must better specify the OCA's path south of Route 448. The public's land continues straight ahead, between the High School parking lot and the backs of homes on the the east side of Hudson Terrace. (see map, below)
The Comprehensive Plan's language is good, but vague
...The wooded path of the trailway ends at Bedford Road and takes on a more urban character, as it crosses Bedford Road and runs beneath the High School building emerging to the east of John Paulding Elementary School in the Village of Tarrytown.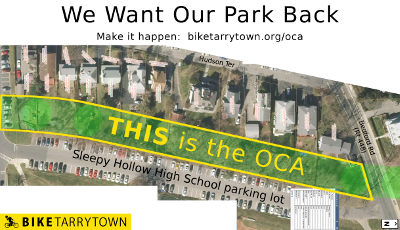 (Click thumbnail to get full sized picture)
POLICY 19D
ENCOURAGE, DEVELOP, PROTECT, AND MAINTAIN APPROPRIATE PUBLIC ACCESS TO AND LINKAGES BETWEEN KINGSLAND POINT PARK, DEVRIES FIELD, PHILIPSBURG MANOR, DOUGLAS PARK, SLEEPY HOLLOW CEMETERY, THE OLD CROTON AQUEDUCT, THE ROCKEFELLER STATE PARK PRESERVE LANDS, AND ALONG THE HUDSON RIVER AND RIVERSIDE DRIVE NORTH OF THE MOUTH OF THE POCANTICO RIVER.
P-1a: Identify and implement targeted improvements at parks and open spaces throughout the Village. Old Croton Aqueduct Trail: Improve access, continuity, and wayfinding to the aqueduct trail.
More Information
Our Old Croton Aqueduct page has complete details of how to improve the OCA.
Read everything we've got on the Comprehensive Plan.