July 28, 2020 Update: Checking Car Culture in Sleepy Hollow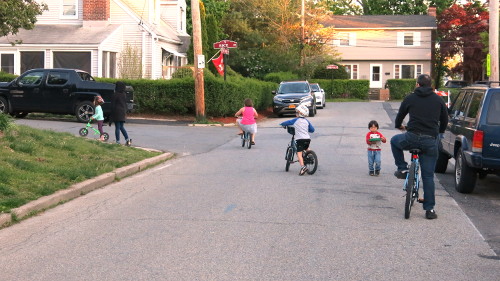 Flip the Script in Sleepy Hollow
Sleepy Hollow streets were calm during the COVID lockdown. Residents really enjoyed being liberated from the danger of car dominated streets. People of all ages were out walking and rolling around.
Now that the lockdown is over, motor vehicle volumes have risen. So the Village sent out a traffic safety message on July 16.
Rather than expand on the new found freedom, the Village government is trying to reestablish repression, warning vulnerable street users about "keeping our baby strollers on the sidewalk and removing our earphones / earbuds while we are on the street" and "always being aware of your surroundings."
That's similar to telling women "don't dress provocatively." It's time to flip the script on victim blaming tropes like these.
People getting around under their own power aren't dangerous. The problem is posed by motor vehicles and the way people drive them. That's where any education needs to be focused.
Headphones? Please. Cars are marketed on their ability to dampen exterior sounds and the quality of their audio (and video, YIKES!) systems.
More important than education is engineering. Our built environment determines how people behave. The way our streets are laid out allows aggressive driving. The state of our sidewalks is shoddy. They're often uneven, missing ramps at corners, blocked by parked cars, shrubs, garbage cans and snow. Key corridors lack walkways altogether. These are things the Village has complete control over.
Checking Driver Entitlement in Sleepy Hollow
Driver entitlement runs deep. Checking privilege of car culture is a key part of Bike Tarrytown's mission, particularly when it pops out from public officials. Our Director, Daniel Convissor, corresponded with one such official in Sleepy Hollow. Read the exchange:
https://biketarrytown.org/checking-driver-entitlement-sleepy-hollow.php
Sleepy Hollow Needs Smarter Investments
At the June 16, 2020 Trustee meeting, Mayor Wray mentioned the Village is thinking about building a trail and bridge over the Pocantico River. It would link the south end of Riverside Dr (at Palmer Ave) to the north edge of Devries Park.
We've thought about advocating for that link too. But then thought better of it. Instead of spending big money on short links, the Village will be better served by investing such funds creating a broad network of safe streets using low cost, quick build measures.
Create protected walking lanes on streets that lack sidewalks. Quickly build new sidewalks, or fix existing ones, where there are short gaps. Install or fix curb ramps along key routes. Use traffic calming and protected bike lanes to establish a safe cycling network.
ADA 30, Same as ADA 29 in Sleepy Hollow
Sunday marked the 30th anniversary of the Americans with Disabilities Act. Alas, many projects built since then have ignored the law.
For example, the sidewalks in front of the Smith-White Senior Residence on Valley St. The walkway is too narrow and is steeply sloped toward the street, making it impossible for people in wheelchairs to use on their own. We raised this issue with the Village on the ADA's 29th anniversary. The Village has ignored the problem.
https://twitter.com/BikeTarrytown/status/1154959935882629120
Since then, on Beekman Ave, the Village allowed more ADA failures to be created and refuses to fix them.
https://twitter.com/danielconvissor/status/1199789508260220929
We Want Our Park Back
A segment of the Old Croton Aqueduct Trail in Sleepy Hollow has been taken over by adjacent home owners. While it's been this way for a while, we're stepping up efforts to reclaim this public resource.
https://twitter.com/BikeTarrytown/status/1284924028847820800
Want to Say Something to Sleepy Hollow?
The Board is meeting tonight, Tuesday, July 28.
You can speak your mind by either sending an email to the Village Clerk: pmccarthy@villageofsleepyhollow.org
Or joining the Zoom meeting at 7 pm: https://www.sleepyhollowny.gov/home/news/july-28-2020-board-of-trustees-work-session-for-zoom-participants
Life's Little Victories
The wet, muddy sidewalk in front of 303 South Broadway has been fixed: https://twitter.com/BikeTarrytown/status/1277267681104855041
The Quay's sprinklers no longer soak walkers at 5 pm: https://twitter.com/BikeTarrytown/status/1285051784520773632
Speedway's sidewalk blocking shrubs have been removed: https://twitter.com/BikeTarrytown/status/1287194103575453701
Water valve pot hole fixed at Broadway & Franklin: https://twitter.com/BikeTarrytown/status/1287199799570305025
Grit on the Tappan Zee's path has been swept: https://twitter.com/BikeTarrytown/status/1287364439155585027
And the TZB path's signs have been secured: https://twitter.com/BikeTarrytown/status/1287366185999306752
Metro North added more bike parking at the Tarrytown station: https://twitter.com/BikeTarrytown/status/1287373368514285569
Plus we got Sleepy Hollow to fix loads of street lights.
Last Call for Shirts
We've reached the threshold to place an order for Bike Tarrytown's awesome t-shirts and sweatshirts. Email us if you want some too.
* Mens style T-shirt: Gildan Ultra Cotton (youth avail.) ($20)
* Womens style T-shirt: American Apparel Ladies Fine Jersey ($20)
* Sweatshirt: Gildan Heavy Blend (youth avail.) ($40)
Here are photos of what they look like: https://twitter.com/BikeTarrytown/status/1274012140014362625