November 29, 2020 Update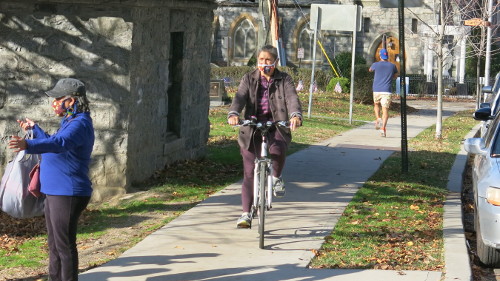 Route 9 Resolution Passes
Sleepy Hollow's Board of Trustees approved a resolution wholeheartedly supporting the Route 9 Active Transportation Plan. Many thanks to Trustee Rachelle Gebler for bringing it to the Board and to the Mayor for entertaining it.
Here's what this means... Now all 5 villages have signed on, they and the Steering Committee are in a solid position to work with the State DOT to move the project forward. The next step is finding grants to pay engineers to produce detailed plans.
Bike Boom
And implementation can't come soon enough. Between COVID and the new path on the Tappan Zee, /so/ many people are cycling on Broadway. Some photos: https://twitter.com/BikeTarrytown/status/1331256720828604416
New Crosswalk Signals at the Dutch Church
Sleepy Hollow's government and residents lobbied the State DOT for years to get a pedestrian signal on Broadway at the crosswalk between the Old Dutch Church and Pierson Ave. And now it's happened! We assume our State Senator, Pete Harckham, had a hand in making this happen.
Construction Alerts
South County Trailway
The SCT is closed for reconstruction from the Tarrytown Lakes parking lot down to Warehouse Lane. County staff anticipates completion by the end of year.
Over the coming year, the trail will be rebuilt from Route 119, south to the NYC border. Smoothing out this really broken trail is sorely needed. Hats off to County Executive Latimer and the Parks staff for getting this done. Unfortunately, access to the path will be spotty and safe detours aren't being established.
Cherry Walk
For those who venture to Manhattan, Riverside Park's Cherry Walk is closed.
https://twitter.com/BikeTarrytown/status/1308944030563291136
New Safety on North County Trailway
Many thanks to the State DOT for making the North County Trailway /way/ safer where it runs along Route 100. The stretch from Briarcliff Manor to Millwood now has guardrails protecting people from motor vehicles.
https://twitter.com/BikeTarrytown/status/1333041079218819074
Wishing Wall
Have you been to the Wishing Wall? It's a beautiful mural on the wavy concrete wall by the Sleepy Hollow Lighthouse. The wall, which separates Riverwalk from what is now the Edge-on-Hudson development, will be torn down in about a year.
Kudos to Kersten Harries, and the slew of other volunteers, who pulled off this project. Here are some images of it:
https://twitter.com/BikeTarrytown/status/1318546947419082754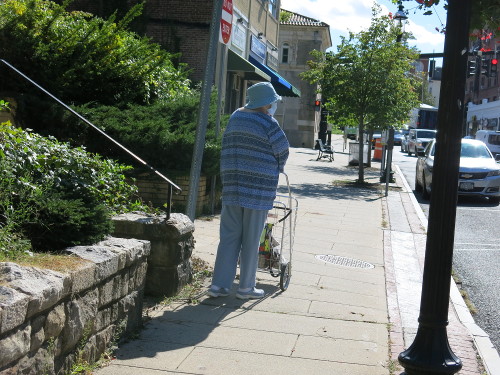 "This is my cane," she said while tapping her shopping cart. Shouldn't governments be "bringing their A-Game" on behalf of folks like this?
Safe Routes Around Construction
We have long urged Tarrytown and Sleepy Hollow to provide safe passage around sidewalk construction sites. This is necessary to make people of all ages and abilities feel that the Village wants them to walk in town.
https://twitter.com/BikeTarrytown/status/1308400891490435078
Thank You Thruway
Thanks to the Thruway maintenance staff who, at our request, cleared vines from the sidewalks on Broadway's bridge over I-287.
https://twitter.com/BikeTarrytown/status/1305495806888349698
Giving Tuesday
Please keep us in mind during this season of generosity.
https://biketarrytown.org/donate.php