June 30, 2022 Update: Ghost Bike Dedicated for Luis Zhizhpon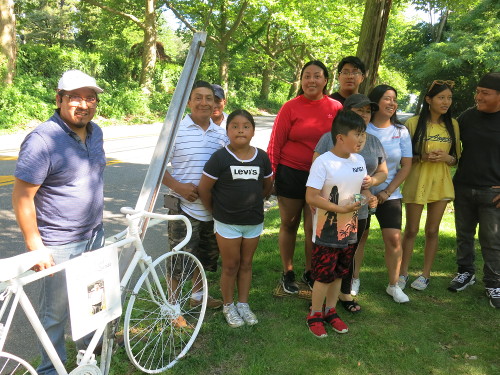 Twelve family members and twelve advocates came together on June 25 to honor the death of Luis Zhizhpon ten years earlier. The event started with a group ride from Morse School, around Downtown Sleepy Hollow, to the corner of Millard Ave and Broadway (Route 9).
There, the cycling bunch joined up with the family members who didn't ride. Everyone participated in the "ghost bike" dedication ceremony. (A ghost bike is an old bicycle, painted white, then placed where someone cycling was killed.) Two of Luis' uncles spoke, as did our Director in Spanish and English.
Our Remarks in English
We are so sorry for your loss. You are not alone. In both meanings of the word. First, we are all here together, with you. Second, many families have suffered because of this road. Broadway averages twenty four crashes and seventeen injuries each year.[1]
Many of our neighbors want to ride places, but dangerous roads like this make people too scared to bike. Fortunately, this can be fixed. The Route 9 Active Transportation Project (https://route9active.org/) will make it safe to walk and bike from the hospital to the High School. And the plan continues south through Hastings on Hudson. State Senator Andrea Stewart Cousins and Governor Hochul are helping advance the project.
Strangely, Sleepy Hollow's Mayor says he has a plan. But it only covers two blocks and doesn't include cycling. So, I encourage you to push Sleepy Hollow to build a Broadway for everybody.
Our Remarks in Spanish
Lamentamos mucho su pérdida. Ustedes no está solo. En ambos sentidos de la palabra. En primer lugar, todos estamos aquí junto, con usted. En segundo lugar, muchas familias han sufrido a causa de este camino. Broadway promedia veinti-cuatro choques y dieci-siete lesiones cada año.[2]
Muchos de nuestros vecinos quieren montar, pero los caminos peligrosos como este hacen que la gente tenga demasiado miedo para andar en bici. Afortunadamente, esto se puede arreglar. El projecto de Transporte Activo de la Ruta 9 (https://route9active.org/) hará que sea seguro caminar y andar en bicicleta desde el hospital hasta la Escuela Secundaria. Y el plan continúa hacia el sur a través de Hastings on Hudson. La senadora estatal Andrea Stewart Cousins y el gobernador Hochul están ayudando a avanzar en el proyecto.
Curiosamente, el alcalde de Sleepy Hollow dice que tiene un plan. Pero solo cubre dos cuadras y no incluye ciclismo. Entonces, los animo a presionar a Sleepy Hollow para que construya un Broadway para todos.
[1] Crashes on Route 9 in Sleepy Hollow from 1987 - 2015, per NYSDOT's ALIS database. In 2016 and beyond, crash statistics regarding Sleepy Hollow are unreliable due to the new Police Chief not filing crash reports with the State. https://convissor.net/sleepy-hollow/village-election-2021/police-reporting.php
[2] Accidentes en la ruta 9 en Sleepy Hollow desde 1987 hasta 2015, según la base de datos ALIS de NYSDOT. En 2016 y más allá, las estadísticas de accidentes con respecto a Sleepy Hollow no son confiables debido a que el nuevo jefe de policía no presentó informes de accidentes al estado. https://convissor.net/sleepy-hollow/village-election-2021/police-reporting.php