May 12, 2019 Update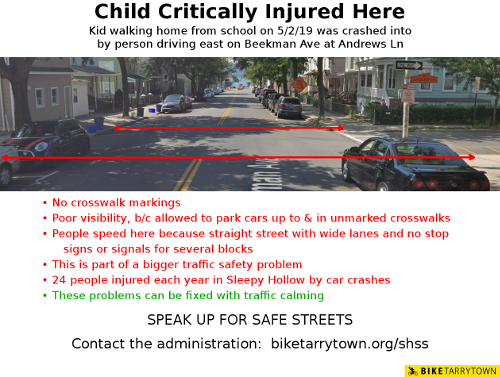 Tuesday: Speak Up for Safe Streets
3 school aged kids have been injured by people driving in Sleepy Hollow over the past 6 months. 24 people are injured in crashes each year here. This is preventable.
If you walk in Sleepy Hollow, or want to, come speak up for safe streets.
Tuesday, May 14, 7:00 pm Sleepy Hollow Board of Trustees Meeting Village Hall 28 Beekman Ave
English: https://biketarrytown.org/events/2019-05-14-sleepy-hollow-trustee-street-safety.php
Spanish: https://biketarrytown.org/events/2019-05-14-sleepy-hollow-trustee-street-safety-es.php
Help Xiomara
Xiomara is the child critically injured while walking home from school. Please help her family cover medical expenses.
https://www.gofundme.com/f/xiomara039s-road-to-recovery
New Events
May 20: Save Cycling in Tarrytown, Public Hearing
While Tarrytown has made some modifications to their anti-cycling law proposals, it's still problematic. The public hearing continues.
Monday, May 20, 8:00 pm Tarrytown Village Hall 1 Depot Pz
https://biketarrytown.org/tarrytown/save-cycling.php
May 28: Sleepy Hollow Comprehensive Plan Public Hearing
We all have 2 weeks to review the drafts of Sleepy Hollow's Comp Plan. Please read through them and let us know what you think. We'll incorporate your thoughts into our take.
Just like the earlier drafts, the "Bicycle Desire Lines" looks like the consultants drew lines on a map. (Page 135 of the new Comp Plan draft.) There's little relationship between actual origins and destinations. We asked the consultants and Village on multiple occasions to explain how they came up with this map. Crickets...
We look forward to reading the latest PDFs and updating our website in response.
Here are some of our thoughts on the earlier drafts. https://biketarrytown.org/sleepy-hollow-comprehensive-plan/
Public Hearing:
Tuesday, May 28, 7:00 pm Village Hall 28 Beekman Ave
May 30: Party for Us at the JCC
Bike Tarrytown's Director and five other budding community builders were selected to participate in the (brand new) Affinity Fellows program of the JCC.
To celebrate the end of the session, the JCC is throwing a party for the fellows. Come join in the fun!
Thursday, May 30, 7 pm - 9 pm The JCC 371 South Broadway, Tarrytown
Birch Close Connection Reopened
The trail linking northern Sleepy Hollow to Kendal on Hudson and Rockwood Hall has been reopened. This is great news for people walking, cycling and running near the Hudson River.
Many thanks to Phelps Hospital / Northwell Health for installing temporary fill until the permanent fix is implemented.