Bicycle Access in Flatland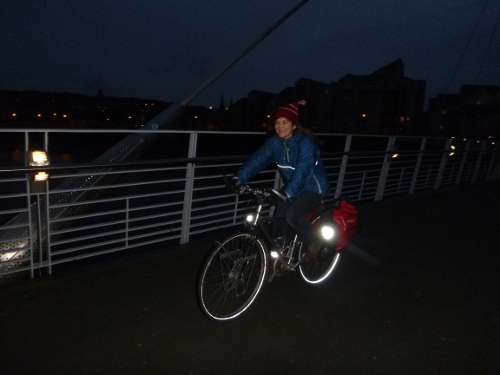 Photo courtesy of Dave Horton
In response to the survey about the TZB bike/ped path, The Journal News published an article and an editorial saying the bicycling/walking path shouldn't be open 24/7.
We couldn't let that stand, so immediately penned, erm, well, you know, typed, an op-ed reply. Nancy Cutler there was very helpful and did a great job editing it. The published version was edited a bit for length. The original version, below, has some additional salient points. (If the lohud site is giving you problems, here's a PDF of it.) A few Letters to the Editor supporting full access got published, as well.
24/7 Cycling Access Opens Up New Transportation Possibilities
The July 2, 2017, editorial, "Unbridled access to new Tappan Zee Bridge pathway? Maybe not." seems like it was authored by someone from the fable, "Flatland" -- in which the characters are flat shapes who can only comprehend two dimensions. A lot of people in Westchester and Rockland Counties are stuck in that same universe, in their cars.
Well, like the 3-dimensional "A Sphere" in the story, I'm "A Cyclist," here to say "There's another way to get around." I ride my bike to do things. Usually around Sleepy Hollow and Tarrytown, shopping for groceries, visiting friends, even the lumber yard. Sometimes I venture farther, like White Plains, New Paltz, the Adirondacks, Michigan. And I'm not alone. People ride their bikes all sorts of places, at all hours of the day and night. Just like people driving.
More importantly, when protected bike facilities are built, particularly networks of them, people use them. Loads of people, actually. You may be surprised to learn that Amsterdam wasn't always a cycling Mecca. After World War II, that city went through a car craze, just like the United States. Eventually, they changed course, building a nationwide network of dedicated bicycle lanes. Now 63% of Amsterdam residents use their bike on a daily basis.
And that can happen here too. I speak to people every day who want to ride bikes to get places. But they're terrified of being hit by a driver. So my friends keep driving. So our public policy is to keep building roads and parking lots. It's time to break this self-perpetuating cycle.
To that end, I am working with a wide array of residents, businesses and officials to design protected bicycle lanes on Route 9 in Sleepy Hollow through Hastings-on-Hudson, as well as on Route 119 from the Tappan Zee Bridge to downtown White Plains. Several villages around Nyack are also working to expand their bike lane systems. Scenic Hudson is studying how connect RiverWalk under the bridge.
In addition, the Empire State Trail will span the entire height and breadth of New York. The local segment here will use the South County Trailway and the North County Trailway. (FYI, Westchester County is currently constructing the missing link between those two trails in Elmsford.) All of these initiatives will improve the economic and physical health of our towns.
Let's get back to the bridge path hours. To start with, full access is a matter of socio-economic justice. It opens up job opportunities for people seeking late night or early morning shifts for those who can't, or don't want to, dump $10,000 per year on a, or another, car.
When a transportation facility is closed sometimes, it means potential users wind up thinking things like "Is it going to be open when I come home? I might have to work late. I'm not sure. Guess I should get there some other way." And that way, generally, is driving.
In my travels by bike, I've been stuck at closed paths on bridges mentioned in the editorial. Four times. I'm sure I wasn't the first, nor the last. Pointless wastes of time and energy, plus extra risks incurred, due to planning by Flatlanders. Plus, closing and reopening the path, and enforcement thereof, has a direct cost to facility operators.
Metro North trains stop at Tarrytown 22 hours per day. The bike - train combination is a tremendous way to keep people out of cars. Particularly at off hours when there's little to no bus service available. People living and working in Rockland County deserve this option.
And reducing driving is quite important. Motor Vehicles are the number 2 cause of injury death in the USA (just below the opioid crisis), and number 1 for kids. Then there's the climate as well as noise, air and water pollution. And our society's general lack of exercise. Don't forget how much prime real estate and financial investment is gobbled up by (ugly) parking lots that could instead be homes, stores, offices and parks.
The "wait and see" approach some are advocating for just doesn't cut it. If the option to ride at off hours isn't there, the demand isn't going to be demonstrated. But if you build it, they will come.
New York City's East River bridges are open all night for people to walk and ride across. (And, no, people don't have to "walk their bikes" across them.) These crossings have residential neighborhoods on one or both sides, just like there are residences at each end of what will be the Tappan Zee Bridge's path.
Some people living in South Nyack are anxious about the unknown. Perhaps they are expecting BMX punks having moonlit parties on the bridge? In reality, late night cyclists are people just like you and me, quietly biking to or from our homes in area neighborhoods. Sleeping residents don't even notice. All the while, cars and trucks roar by.
Here is a thought experiment. Take every point raised by people suggesting closing the path overnight. Then change all references and inferences of "path" to "road" and "cyclist" or "pedestrian" to "driver." Some examples:
"Where would people go once they crossed the Hudson?"

"We don't really have an economy that's built around late-night activity."

"It's just hard to see what the positives would be."

"Take a wait-and-see approach on how the roadway is actually used."
They don't make any sense, right? That's because of the universe you're accustomed to. You can envision yourself or someone you know driving places "once they crossed the Hudson," attending a "late-night activity" and the "positives" gained by doing so.
Use your imagination. Think of another dimension. Put yourself in the shoes of someone who's sole or primary mode of transportation is, or could be, riding a bicycle.
Biking for transportation is fun, fast, fit and free. Try it. It instills you with a sense of empowerment and true freedom. As long as you can get across the bridge.
Sincerely,
Daniel Convissor
Director
Bike Tarrytown
https://biketarrytown.org/
@BikeTarrytown