April 4, 2018
Demand Safe, 24/7 Bike Access to the Tappan Zee / Cuomo Bridge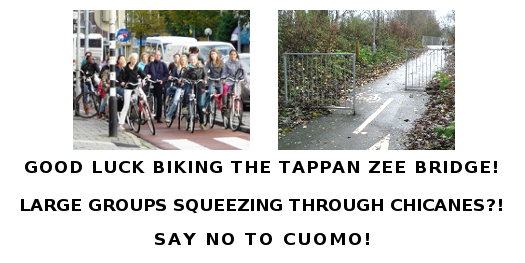 Call to arms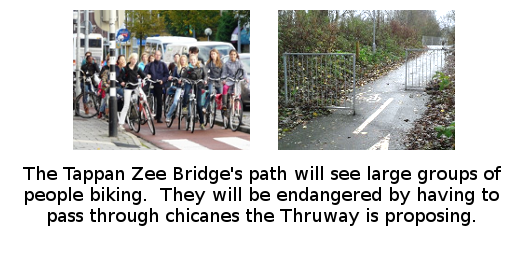 Polite Infographic to convey problem to politicians.
Yeees, we need to contact Governor Cuomo aaagain.
Everyone did an amazing job nudging him in the last round.
Together, we got the Thruway Authority to remove the swing gates, switch dismount signs to yield signs and improve warning signs for people driving!
But now they're creating other problems.
We've got the State moving in the right direction. Let's coax Cuomo to take the last couple steps to get this right.
Tell Cuomo:
You want Cuomo Bridge path plans improved
Chicanes cause crashes
Set up the Rockland end so everyone can safely ride on and off
Operate the path like a road, only closing it when absolutely necessary
(Background on these asks is in the letter to the Governor sent by a coalition of 14 groups.)
Take Action!
Call or email Governor Cuomo and his transportation staff now:
Cuomo: 518-474-8390 x2
Mahoney: 518-436-2700 (Chair of the Thruway's Board)
Ali Chaudhry <ali.chaudhry@exec.ny.gov>,
Joanne Mahoney <joanne.mahoney@thruway.ny.gov>
It's important to ask your State Senator, Assembly Member, County Executive, Mayor and Town Supervisor to do the same. These folks carry weight with the Thruway and Governor.
Send them the "Polite Infographic" to quickly convey the problem. (At right, 2nd image from top of page.)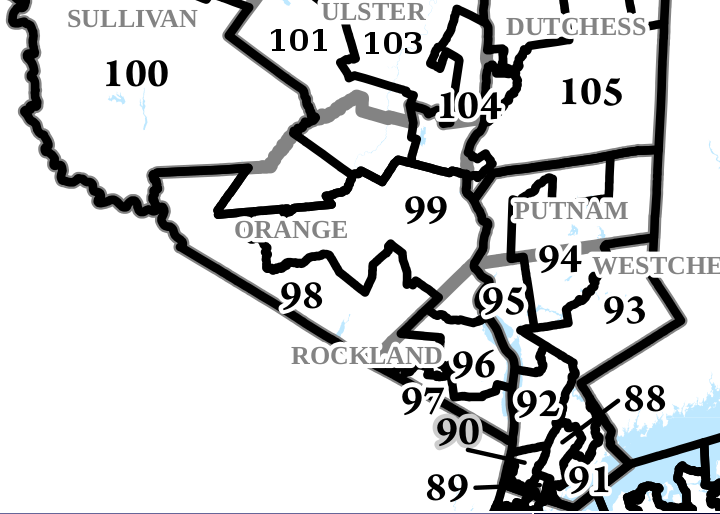 NY Assembly Map. Click to enlarge.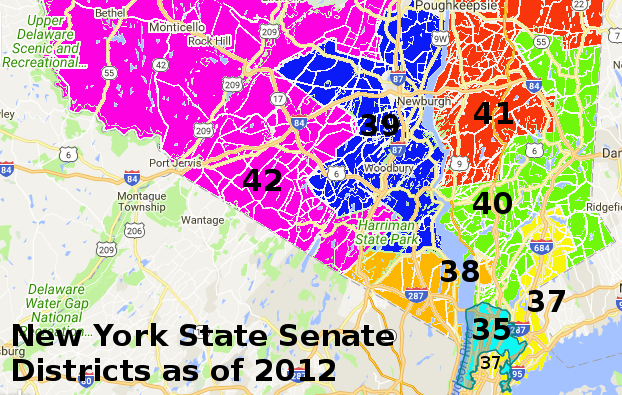 NY Senate Map. Click to enlarge.
Westchester County Executive: George Latimer <ce@westchestergov.com>
Rockland County Executive: Ed Day <CountyExec@co.rockland.ny.us>
NY State Assembly Member (see map):

88: Amy Paulin <paulina@nyassembly.gov> 914-723-1115
89: Gary Pretlow <pretloj@nyassembly.gov> 914-667-0127
90: Shelley Mayer <mayers@nyassembly.gov> 914-779-8805
91: Steven Otis <otiss@nyassembly.gov> 914-939-7028
92: Thomas Abinanti <abinantit@nyassembly.gov> 914-631-1605
93: David Buchwald <buchwaldd@nyassembly.gov> 914-244-4450
94: Kevin Byrne <byrnek@nyassembly.gov> 845-628-3781
95: Sandy Galef <galefs@nyassembly.gov> 914-941-1111
96: Kenneth Zebrowski <zebrowskiK@nyassembly.gov> 845-634-9791
97: Ellen Jaffee <jaffeee@nyassembly.gov> 845-624-4601
98: Karl Brabenec <brabeneck@nyassembly.gov> 845-544-7551
99: James Skoufis <skoufisj@nyassembly.gov> 845-469-6929
100: Aileen Gunther <gunthea@nyassembly.gov> 845-342-9304
101: Brian Miller <millerb@nyassembly.gov> 845-895-1080
103: Carrie Woerner <woernerc@nyassembly.gov> 518-584-5493
104: Frank Skartados <skartadosf@nyassembly.gov> 845-562-0888
105: Kieran Michael Lalor<lalork@nyassembly.gov> 845-221-2202

NY State Senator (see map):

35: Andrea Stewart-Cousins <scousins@nysenate.gov> 914-423-4031
37: vacant
38: David Carlucci <carlucci@nysenate.gov> 845-623-3627
39: William Larkin, Jr <larkin@nysenate.gov> 845-567-1270
40: Terrence Murphy <murphy@nysenate.gov> 914-962-2624
41: Sue Serino <serino@nysenate.gov> 845-528-0417
42: John Bonacic <bonacic@nysenate.gov> 845-344-3311